BIS AUDIO Power Maestro + AC20WG: Une critique du magazine NOVO.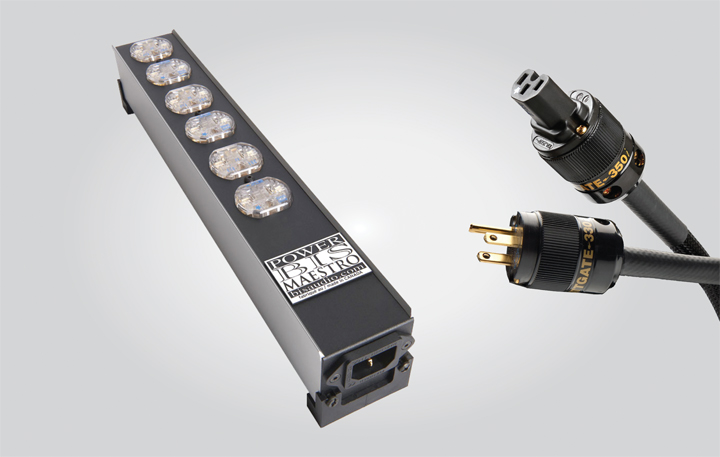 Some people think that upgrading their A/C power bars and power cords is like asking for a wine list at an inner-city bowlerama: a pointless waste of time and money. To my ears, audiophile power cables, A/C filters, and power regenerators do several things to varying degrees: 1) they lower the noise floor; 2) they energize a system, increase the dynamics, and improve the PRaT; and 3) they make music reproduction systems sound more lifelike.
Investing in a higher quality power bar and an A/C cord feeding the power bar shouldn't push a budding audiophile towards the brink of bankruptcy. Mercifully, Quebec-based BIS Audio has unleashed a number of budget conscious A/C solutions.
Product Description
Available with either six or eight female outlets, BIS' PowerBIS eight outlet Maestro A/C power bar retails for $1,009 US. The eight outlet Maestro is 16" long x 2" high x 2" wide. Its thin dimensions make it easy to fit behind audio racks.
Audiophiles are drawn to big, shiny, and carbon-encased A/C power regenerators in the same way that al Qaida recruits are magnetically drawn to monkey bars. My Heavens… they love those monkey bars!
Aiming more for improving the sound quality than an obnoxious bling factor, the aesthetics of BIS' Maestro A/C power bar and AC20WG power cord are appealing in an understated way. The Maestro was engineered around 3 criteria: 1) high conductivity; 2) mechanical sturdiness for long-term reliability; and 3) to impart ZERO sonic signature and sound as neutral as possible.
My 8-outlet Maestro review sample featured four Wattgate audio grade 381 EVO Au (gold) receptacles which use Wattgate patented 3-layer gold plating process on all electrical contacts. To minimize mechanical resonances, the interior of the Maestro's chassis is coated with proprietary "asphalt based" dampening material. To nullify A/C line ring, crackling, and wall-wart transformer vibrations, BIS have also added a non-current limiting "parallel circuit" to this power bar.
The latest generation Furutech IEC socket that's built into the Maestro was designed to accept the 10-gauge internal copper (Cu) wiring that BIS believes vastly improves the power bar's sound quality.
My review sample of BIS Audio's 1.8m AC20WG 15 Amp power cord ($579 US) was terminated with Wattgate audiophile plugs on the both the male and female ends.
General Sonic Impressions
After testing the Maestro PowerBIS + AC20WG cord combo in a half-dozen 2-channel systems, I found that it sounded remarkably neutral. Other than consistently improving the dynamics and clarity of every system that I powered it with, BIS' A/C combo imparted no sonic anomalies. The Maestro PowerBIS + AC-20WG combo was more neutral than Switzerland during WW2. If a system sounded harsh or bright, BIS' power products only delivered more of that fatiguing edge, grain, and/or brightness. Hearing the true sonic character of your system isn't always a good thing. Sonic truth is a lot like poetry: and most people freakin' hate poetry.
Sonic Comparisons
Installing a $30 level WallyMaart plastic A/C power bar into my 6-figure all tube 2-channel system resulted in horribly bad — even physically painful — sound. The attack, sustain, and decay of individual notes was slow and incoherent. High frequency instruments like cymbals sounded thin and annoying.
Listening to operatic music, mid-range sonics were compressed, flattened, and smothered like an elephant was sitting on the chest of the lead soprano. Soundstaging and imaging evaporated faster than one of fluffy Trudeau's election promises. Notes in the lower mid-range, upper bass, and mid-bass were as homogenized as 18% cream. PRaT was unrecognizably bad.
The $30 plastic A/C power bar made more noise than a caffeinated kindergarten class. Overall, using a cheap generic A/C power bar caused my main 2-channel system to sound horrible. I almost herniated myself in the rush to re-install the BIS Maestro power bar + AC-20WG cord.
Against various A/C power conditioners and regenerators in the $3K to $6K retail price range, the BIS combo didn't quite have the resolution, soundstaging and imaging, PRaT, and timbral accuracy of the other units. The sound quality of the BIS combo was, however, much closer than I expected it to be. In entry-level sub-$5K systems, BIS' products dramatically improved the sonics of all types of music.
Achieving "realism" from recorded music isn't easy. And yet, when you hear lifelike sound, listening to music magically becomes an experience that evokes an emotional response. A listener suddenly feels the emotions — the energy, the anger, the sadness… the emotion — of the music.
BIS' Maestro uses top shelf Wattgate receptacles, has no on/off switch, no pilot lamp, and no filters that kill dynamics, PRaT, and the life of recorded music. By audiophile standards, its stellar performance and impressive neutrality belies its bargain price. The sound quality of these A/C products punches WAY above their price points.
Listening Tests
Released in 2011, the Japanese K2HD CD version of Tom Jones' The Golden Hits is a treasure trove of his triumphant singing.
During the 1970s, Tom Jones was a God walking amongst men. On songs like "I'm Coming Home", "What's New Pussycat", "It's Not Unusual", "Detroit City", and "Delilah", Jones sings with a swaggering machismo that could — and often did — stun a lot of marginally inebriated cougars at 20 paces.
Jones was the finest male pop music crooner of his era. And listening to him with the BIS combo powering my 2-channel headphone system, it was easy to understand why so many women threw hotel room keys onto whatever stage Jones was commanding.
This man could sing like he'd descended from Mount Olympus and was every staggering inch an immortal God. The BIS power combo made his voice sound so remarkably correct that I found the timbre, pitch, and dynamic capacity of his singing to be… frightening. Frankly, if you don't like Tom Jones' singing, you're (probably) a God-damned communist who has no soul.
Wanting to hear how the BIS combo sounded with far faster and heavier music, I next tried Black Sabbath's Born Again. Released in 1983, this master-crafted album features the songs "Trashed", "Zero the Hero", "Digital Bitch", and "Born Again".
Even on the slower and more emotionally expressive tracks, the songs on this disc are all cement-mixer heavy and more intense than an enraged rhino on LSD.
With BIS' A/C combo, the spine-shaking intensity of Ian Gillan's voice — (yes… THAT Ian Gillan from Deep Purple) — sounded as terrifying, and concurrently exhilarating, as I've ever heard it. Tony Iommi's lead guitar solos and Gillan's high-pitched falsetto shrieks all sounded accurate. Mid-range timbres were a pleasure to sink into. Sounds in the lower mid-range, upper bass, and mid-bass registers had remarkably accurate PRaT, texture, and electrifying dynamics. Overall, BIS' Maestro imparted zero edge, grain, or sonic artifice.
And hearing Born Again recreated with such palpable energy and musical authority took my mind right back to various vainglorious times in my life when this classic Sabbath record had been a daily staple in my musical diet. Yep… goosebumps; they came to me in shivering waves.
Conclusion
BIS Audio's Maestro power bar and AC-20WG power cord is the most neutral sounding A/C power combo that I've ever heard. If you want to hear more of the sound that your audio system is capable of producing, BIS' A/C products will bring you far higher fidelity at, by audiophile standards, a bargain price. How good is the PowerBIS Maestro and AC20WG combo? It certainly gets my thumbs up! Individually, the PowerBIS Maestro power bar retails for $1,099 US and the AC-20WG power cord retails for $579 US. But you can buy them as a combo for $1,588 US (which will save you about 7%).
BIS Audio
www.bisaudio.com
Pricing:
BIS Audio PowerBIS Maestro power bar: $1,099 US
BIS Audio AC-20WG power cord: $579 US
When purchased as a combo: $1,588 US